<Sunset that the sun dawn on the sea in Oia>
There are several villages on Santorini Island and Fira, Oia are the 2 major towns. Today we introduce the attractiveness of Oia town.
<blue domes in Oia>
<Local cuisine 1>
Oia - for unforgettable sunsets, probably the most charming place on the island.
Just above Fira is the town of Oia with its whitewashed walls sunk into the volcanic rock and its blue domes.
 <Oia sunset scenery>
<Local cuisine 2>
At dusk, the town attracts tourists venturing to enjoy the sunset.
Santorini's sunsets from Oia are famous for its beauty.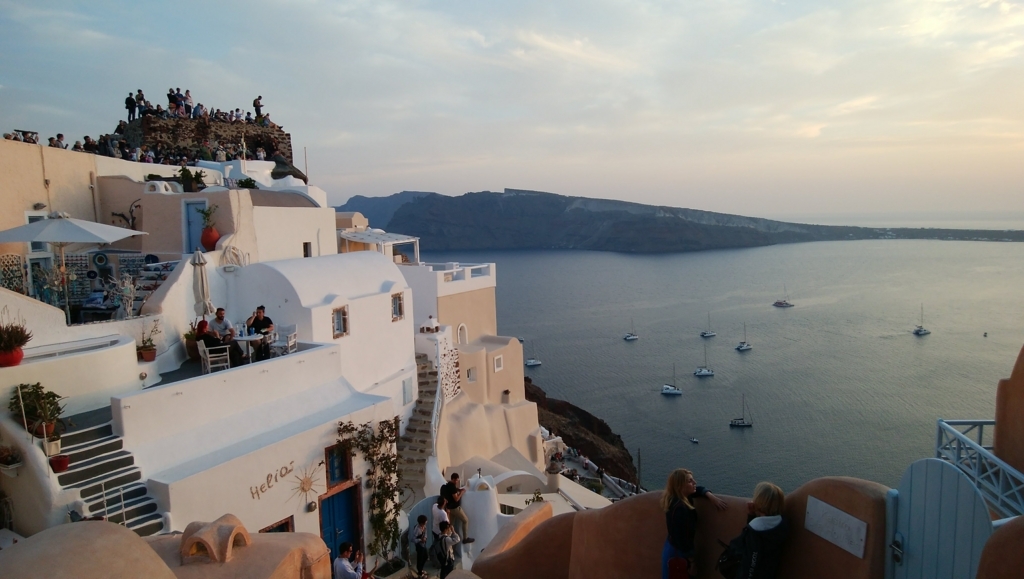 <Visitor is waiting sunset from the Oia>
Santorini ranks top destinations for wedding ceremony for recent 4 years.
This is primarily because for the sunset and peaceful environment.
<Restaurant that offer one of the best sunset scenery> 
<Local cuisine 3>
While the island is filled with medium and top level hotels and villas, there exist many unmanned private houses where no one seems to live for a long time. 
(Last visit) May/2018